Party Bus Rental Columbia
Party Bus Rental Columbia
Looking for a party bus in Columbia, South Carolina? Look no further. At Columbia Charters, we provide the most reliable and affordable transportation service in the state. Party buses are great for any special occasion, including your wedding day or prom night. We have a variety of party buses available to choose from when you reserve with us: they include Sprinter Vans, Mini Buses and Stretch Limos.

If you want to turns your friends green with envy by getting the highest class ride imaginable, you need to check out what a party bus rental Columbia has in store for you today. There is no telling when you'll need that extra lift in luxury and when you ride with Columbia's hottest party buses and limo rentals, you really take that meaning to a whole new level. You might impress at a concert or a trip to the museum or maybe just kick back while you your SC like a celebrity.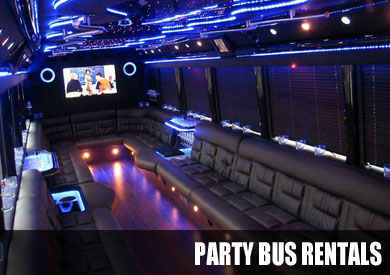 A Columbia party bus has everything covered no matter what you plan to do and for any event from big to a simple Quinceanera. You can always tell that you made the right choice when the overwhelming feeling of success floods your body as you enter a limo bus rental and stays with you the entire trip. Your birthday party is being said to be the best anyone has ever attended in their lives and you're nights on the town are out of this world extravagant!
You owe it to yourself to explore a new dimension in romance when you celebrate an anniversary in the lap of luxury and style. You know you deserve to enjoy limo buses in Columbia, so why not take the next opportunity to look some up online and find out which party bus company is the best one for your next planned outing.
Party Bus Company in Columbia SC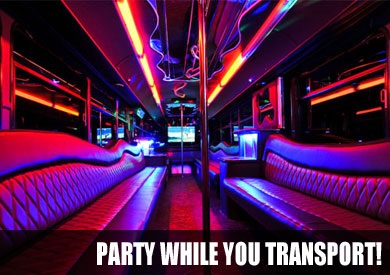 When you get inside of a Columbia South Carolina party bus rental, you'll automatically see why it was the perfect decision for the sporting event you were hoping to attend in style. You can tailgate like no one has ever seen before and soak in the attention you'll get from your shuttle service. It's not hard to get hooked up on the fun and excitement and because party bus prices are so affordable, it makes it easy to enjoy your next trip like a movie star!
Imagine your bachelor or bachelorette party being spent inside of a bash on wheels, or a simple outing to the city turns into something so amazing you'll swear you won't use any other corporate transportation again! When you think about having some fun in your ride with comfortable seating and amenities fit for a celebrity, you need to think about party buses in Columbia SC because it's the best that it gets. Even if you live in the areas of 29209, 29063, or 29172, you're sure to find a party bus rental Columbia today and start checking out some of the local places to visit for a great night out.
Yesterday's Restaurant & Tavern is the perfect spot to kick back with some close friends and family. This is the place that has locals going crazy over the home cooking and welcoming staff. You know you're at the right place when you're feeling relaxed and well taken car of at Yesterday's! Goatfether's Coffee Bar & Restaurant is a cozy joint nestled in the town, with the friendly service and some amazing food. It's small enough to miss on a map, but huge enough in flavor once you try one of their succulent menu items. Gillian's is a bar and grill, which just puts fun over the edge with, games, billiards, and much, much more! You need to take some friends in and have a fun time today!

Affordable Bus Rental Columbia
It doesn't take a rocket scientist to figure out that SC is amazingly beautiful with tons of attractions to see, it just matters on which cheap party bus rentals Columbia has to offer you to get you there in style. Prom might get your nervous and no one wants to show up in an average vehicle on a night like this, so you'll want a prom limo in Columbia to do the work and get you to your school like the high roller that you are.
You can certainly enjoy this service for any function even homecoming the choices are limitless. If you live in Irmo, West Columbia, Sumter Aiken, Cayce, or Lancaster and want to book an affordable wedding party bus for your big day and share nuptials with the person you love inside of elegance you have never dreamed, then today is your lucky day. No one said weddings had to be difficult to plan, when you ride like this and have this kind of company in your corner, you can't go wrong!
Columbia Party Buses Near Me
We have a large variety of Party Buses and Limousines to rent. Our goal is to make sure that your party bus experience goes off without a hitch. If you're looking for a birthday surprise or something different than the usual dinner-and-a-movie date night, then our party buses may be just what you need! We can accommodate any type of celebration from sporting events to bachelor parties. We offer transportation for groups as small as 10 people up through 100+ person parties. If you have any questions about our services or would like an estimate on how much it would cost to book one of our luxury vehicles please call us today at 803-232-6770 (Toll Free).
Why Choose Columbia Limos South Carolina?
When it comes to choosing a party bus in Columbia, South Carolina, it's important that you select the best company for your needs. Here are some reasons why we are the best choice for your party bus needs: Our prices are competitive and affordable. We have a great selection of vehicles to choose from. Our customer service is second-to-none, with friendly staff members ready to help you at any time.
Luxury Party Bus Options
Grand Tour Party Bus—This is the party vehicle of choice for a large party. The Grand Tour has seating for up to 30 people and includes an electric dance floor. Party Bus—The Party Bus seats up to 18 passengers and includes a Karaoke machine, flat screen TV's and DVD player for watching movies on the road. Mini Party Bus—The mini bus is great for smaller groups that still want luxury accommodations. It seats up to 14 passengers and has an ice chest in the back of the bus so you can keep your drinks cold as you travel from one point in Columbia to another!
Party Bus Pricing Explained
Price is a very important factor when selecting your party bus service. You want to pick the right company and plan ahead with them so that you can get the best deal possible. The prices for our party buses vary depending on several factors such as: Type of Bus – Our larger 16-passenger vehicles are more expensive than our smaller 12-passenger vehicles, however we also offer a mid-range vehicle that is perfect for parties between 8 and 12 passengers. The type of fuel used will also determine how much it costs for your rental period.
Sprinter Limo Rentals
If you need a large vehicle to accommodate a group of people, then the Sprinter limo rentals are the perfect option for you. The Sprinter limos are spacious and comfortable, allowing your guests to travel in style and comfort. They can be used for airport transportation or for weddings, proms and other special occasions.
First Class Service
Our staff is available 24/7 to help you plan your next trip. With our expertise, we can suggest things to do and see in Columbia, South Carolina that will make your time there more enjoyable. When it comes to customer service, our number one priority is making sure that you have a great time on your trip! We are experienced and knowledgeable about the area. We want you to enjoy yourself while you are visiting this beautiful city so we will be sure to provide first-class service at all times. Our professional demeanor and courteousness will make you feel right at home in no time at all! With our flexible schedule, we are able to accommodate any last minute requests without hesitation!
Executive Party Buses
Executive party buses are the most luxurious and expensive party buses. Why do executive party buses cost more than other buses? The answer is pretty simple: because they're better! Most other vendors are either renting out old school buses or even worse, a van with a bed in the back. But at Columbia Charters, we only use the best vehicles. When you ride on one of our executive charters, you get access to free WiFi (so everyone can upload their Instagram posts) as well as free snacks and drinks (for when your stomach starts growling). Plus, if there are any issues during your trip (like someone needs some tissues), we'll make sure they get taken care of within minutes thanks to our 24/7 customer service team who will be happy to help out!
Airport Transportation
Transfer buses are the perfect solution for getting airport passengers to their final destination. Whether you need to take a group of friends or family members from the airport to your home, or if you're planning an event and need transportation from the airport, we can help with our transfer buses in Columbia! We have different sizes of transfer buses and can accommodate groups large and small. Our luxury buses offer all the amenities you'd expect on a private charter bus, but they also come with conveniences like Wi-Fi access so people can stay connected during travel time. The best part? Our transfer buses are fully air-conditioned so everyone stays cool while traveling through Columbia! Our vehicles feature comfortable seating configurations with plenty of room for luggage storage underneath each row of seats. They also feature onboard restrooms and entertainment options like flat screen TVs that make it easy for everyone on board to enjoy their ride together without having to worry about missing out on anything important along the way (like sports games).
Bus Shuttle To The Venue With Wedding Transportation
The wedding venue is your place to have the celebration you have always dreamed of, and with that comes planning. You will be busy coordinating all of your vendors and making sure everything is perfect. The last thing you need to worry about is getting everyone there on time. We are here to help! At Columbia Charters, we offer bus shuttle service to and from our wedding venues in Columbia as well as any other location in South Carolina.
Coach Bus Transport Sporting Events
If you have a sport team and are looking for the best way to get your players to their games, then a charter bus is the perfect solution. You can find reliable coach buses from Columbia Charters that will drive your team to the game and back. Coach buses are great because they offer lots of seating space so that everyone can comfortably ride on board. There is also plenty of legroom so that people won't feel squeezed together or cramped during their trip. There are many different types of coach buses available for rent in Columbia, South Carolina including luxury coaches, VIP coaches and party buses. Each one offers its own set of benefits but all provide safe transportation from point A to point B with no worries about finding parking at each stop along the way!
School Bus Rentals
School bus rentals are a great way to get around town and explore Columbia, South Carolina. The perfect option for student-led trips, school buses allow you to travel with a large group while keeping everyone safe and secure at all times. Plus, the driver will be able to navigate through busy city streets while you enjoy the scenery!
Prom and Formal Limo Shuttle Service
The importance of a prom limo ride cannot be overstated. Driving yourself to your senior prom is not only dangerous, it's also illegal. A parent or friend can bring you to the event with their own car, but they can't drive anyone else—including your date! That leaves you with two options: either take public transportation (which is sparse at best) and miss most of the party; or load up your friends in a rented minibus or shuttle van (either way, it will likely still cost more than hiring an experienced driver). That's why we say that getting around Columbia shouldn't be stressful—and if you choose us as your party bus provider, we promise not to let any stress get in our way!
Pub Crawl Minibuses
A pub crawl, also known as barhopping or bar-crawling, is a drinking game in which participants tour or sample bars in a certain area (usually an urban neighborhood). The goal of the game can vary, but usually involves drinking at each bar or obtaining specific items before moving on to the next location. While some pub crawls are organized by one person or group who then invites friends and acquaintances to join them, others have no official organizer and simply allow participants to self-select their own route through numerous establishments. Pub crawls can be as simple as walking from one watering hole to another with your group of friends — no transportation needed! However, if your party wants more freedom for movement and exploration without having to worry about where everyone has parked their car again after leaving it behind at yet another venue (and you don't want to end up having too much fun), then using party buses from Columbia Charters may be ideal for you:
Wine Tour Party Bus Trips
The Party Bus is a popular mode of transportation in Columbia and other cities around the world. So, if you're looking for an awesome way to enjoy local wine with friends or family, book your next wine tour with us today! We know how important it is to have fun while you're out on the town. That's why we offer party bus trips that will keep everyone entertained—and help them take advantage of all that South Carolina has to offer. Our vehicles are fully equipped with comfortable seating, built-in surround sound systems, flat-screen TVs and more—so you won't have any trouble enjoying yourself as our driver takes care of the driving for you! We also make sure our staff members are properly trained in customer service so they can make sure your ride is nothing short of incredible every time.
If you're looking for party buses in Columbia, SC, then look no further! We have the best luxury party bus rentals to fit all of your needs. We offer Sprinter limo rentals and Sprinter shuttle bus rentals as well. These luxury transportation options are perfect for any event or occasion for groups of up to 24 passengers. Our team at Columbia Charters is here to help you plan out every step of your trip from start to finish so that everything goes smoothly without any hiccups along the way!
Limo & Bus Rental Prices in Columbia
| | |
| --- | --- |
| Vehicle | Rental Pricing |
| 6 Passenger Limo | $110-$145 hourly* |
| 8 Passenger Limo | $120-$155 hourly* |
| 12 Passenger Limo | $125-$165 hourly* |
| 18 Passenger Minibus | $140-$170 hourly* |
| 20 Passenger Party Bus | $150-$200 hourly* |
| 25 Passenger Party Bus | $160-$220 hourly* |
| 30 Passenger Party Bus | $180-$260 hourly* |
| 30 Passenger School Bus | $145-$240 hourly* |
| 50 Passenger Coach Bus | $150-$240 hourly* |
| 56 Passenger Charter Bus | $150-$260 hourly* |
*Prices vary greatly depending on the city and state of your service. Due to COVID-19, rental prices shown in past estimates may not reflect actual pricing which may be significantly higher depending on availability.